98
The main inhabited area at risk of fluvial (river) flooding in Greater Norwich is in the Wensum valley covering parts of central Norwich (see map 3 below).
99
There are small scale flood defences across Greater Norwich with more extensive defences by the River Wensum within The Close area of central Norwich and on the River Bure at Buxton. There are also flood defences within the neighbouring Broads Authority planning area, with an extensive programme of improvements being implemented within the Broads40.
100
Whilst the great majority of development in recent years has been away from areas of flood risk from rivers, recent development on brownfield sites to provide urban regeneration adjacent to the River Wensum in Norwich has been designed to withstand flood.
101
Measures to address surface water flood risk in areas at the greatest risk, including  parts of Norwich and Drayton, have included maintenance of drainage systems, the introduction of detailed development management policies covering such areas and funding bids for mitigation works.
102
This plan will need to provide strategic level policies to address flood risk in new development, locating the great majority of development away from areas at risk of flood and promoting development which supports more natural functioning of the water environment.
Map 3 Fluvial and Tidal Flood Zones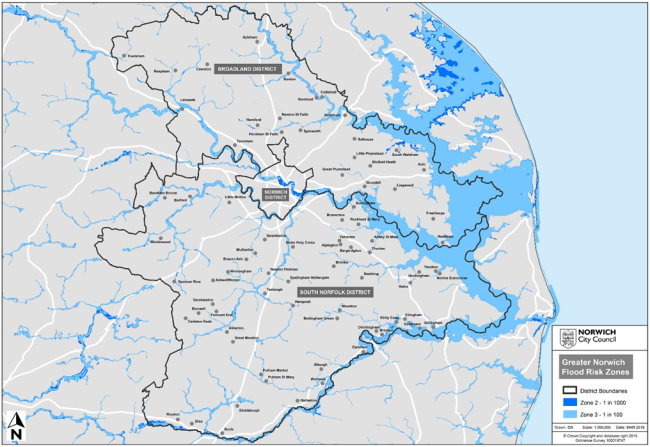 Footnotes
40Source: Greater Norwich Area Strategic Flood Risk Assessment