3.24
Cringleford is identified as an urban fringe parish under policy 7.1.  There are good links to the University of East Anglia, Norfolk & Norwich University Hospital, and the Norwich Research Park.  Major development is underway in the parish, with significant commitments as yet unbuilt.  Amongst the facilities in Cringleford are a doctors surgery, primary school, shops and community buildings. An additional primary school is planned as part of the currently committed development.  The A11/Newmarket Road runs through the parish, joining at Thickthorn with the A47, to the west.  To the east, the parish's boundary is formed by the River Yare valley. There are some areas of fluvial and surface water flooding risk and the parish also contains a few County Wildlife Sites.  Cringleford has had a Neighbourhood Plan in place since February 2014 covering 2013-2026.
3.25
There are no new site allocations identified in Cringleford.  However, there is one carried forward allocation for housing from the Neighbourhood Plan (for 1300 homes, with an uplift of 410 additional homes covering a wider area) and a total of 61 additional dwellings with planning permission.  This gives a total deliverable housing commitment for Cringleford of 1,771 homes between 2018 – 2038.  There is also a carried forward allocation for employment at Keswick.
3.26
All site allocations are expected to address standard requirements associated with development. These vary from place to place but are likely to include mitigations for flood risk (as well as SUDs), highways improvements, safeguarding of minerals resources, land remediation, measures to protect the environment, biodiversity, and landscape intrusion.
Settlement Map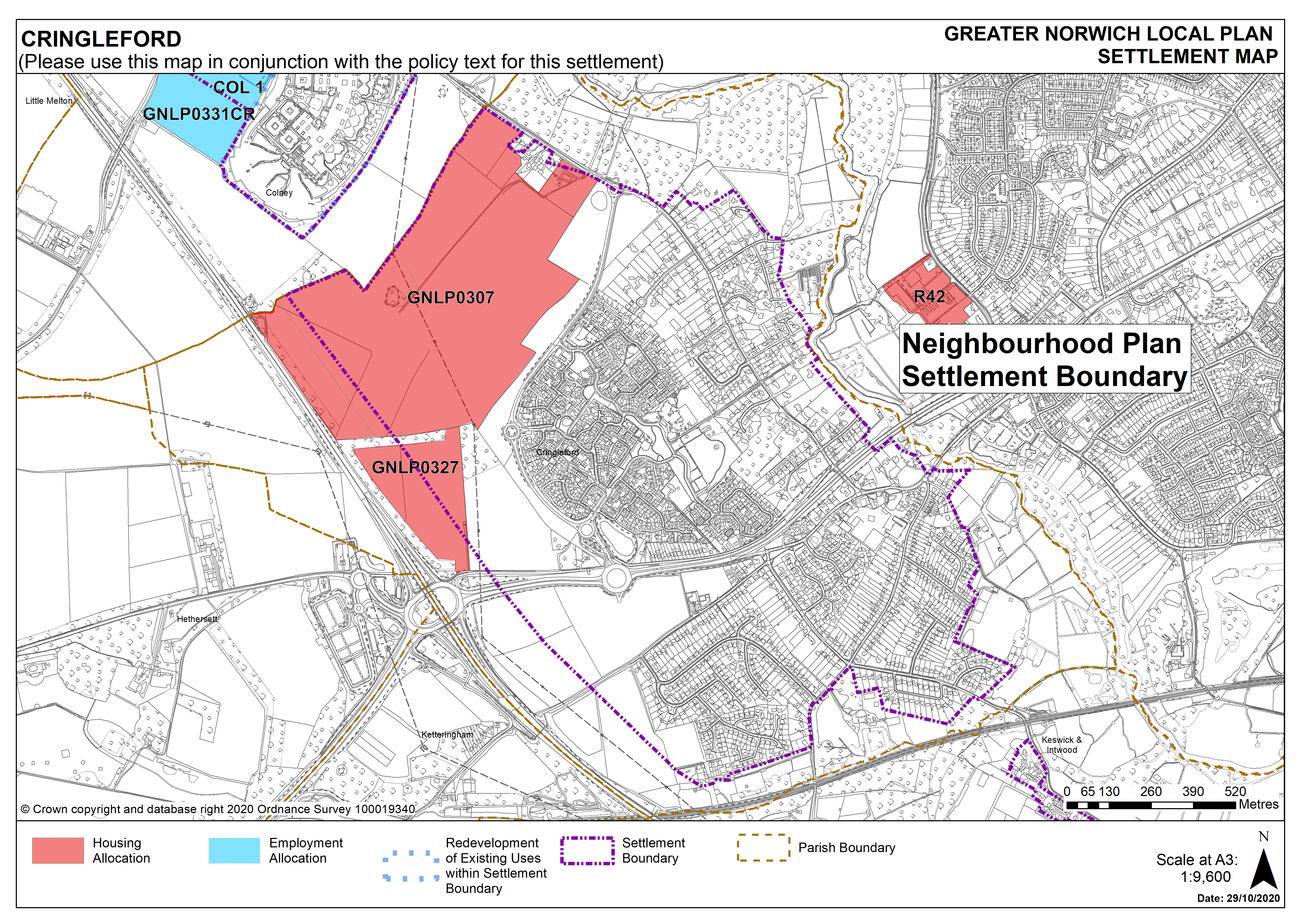 Settlement Map